We offer our clients MICR cheques which stand for magnetic ink character recognition which is actually a magnetic code that is printed on the bottom of the cheques. When the cheque is placed under a MICR reader, the reader would automatically identify the account number and details of the person who issued the cheque. This helps in faster processing of cheques and also helps in rejecting the replicated cheques. MICR number facilities automatic settling of interbank transaction at the clearing house of Nepal Rastra Bank.
The company will provide the MICR cheque stationary based on the cheque standard and specification published by Nepal Rastra Bank. All the mandatory features will be included on the base stationary (cheques). Following are the mandatory security features of the cheque stationary.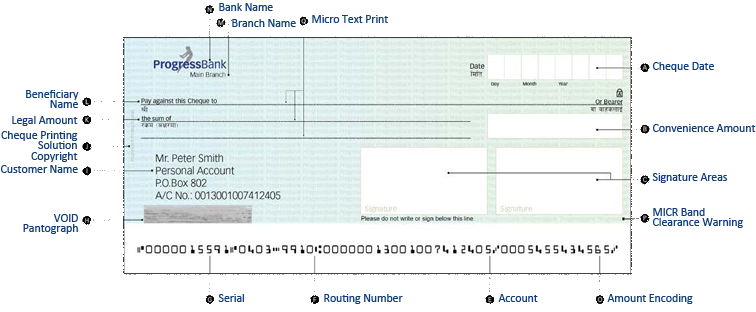 Size: Length 7½ inches (190.5 mm) and height (3½) inches (88.9 mm)
Cheque Layout: MICR clear band – 6/8 inch (19.050 mm) measured vertically from the bottom of the Cheque.
Physical Characteristics of the Paper: Minimum basis weight of the paper will be 95.0 g/m 2 grams per square meter or G.S.M.
Background of the Cheque: We can print any background on the front side of the cheque that is provided by the bank.
Printing on the Reverse of the Cheque: Backgrounds in the reverse side of the Cheque will be printed in scan non readable ink(s).
VOID Pantograph: A VOID pantograph will be added on the cheque
Numbers of printed colors: 4 colours at front and 1 colour at back of cheque.
Water mark: The cheque paper should carry a standard watermark with the word 'NEPAL', which is easily identified when held against the light. The size of the watermark should be 2 inches (50.8mm) in width and ½ inches (12.7mm) in height. Each cheque should hold at least one full watermark;
 Other Security Features: (1) chemical sensitised and watermarked paper which is UV (Ultra Violet) dull (2) an unobtrusive Solvent-soluble and aqua fugitive (water-soluble) ink security pattern with a micro line print of the bank name repeated over and over again as three lines below the payee name and amount in words to show any fraudulent alterations by reaction to liquids or physical alternation(4) print 'system name' UV printing on the fields viz. the date, payee name, amount in words and amount in figures fields (5) name of the Cheque printing press vertically along the left edge above the MICR clear band will be printed (6) Invisible logo mark and (7) all other security features provided by the specification and standards published by Nepal Rastra Bank.